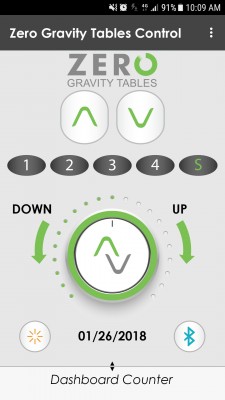 Revolutionize the Way You Work with the App Controlled Standing Desk
LOS ANGELES, December 31, 2019 (Newswire.com) - ​​​Zero Gravity Tables is known for its high-quality standing desks and desk risers and ergonomically designed to improve activity levels and boost health benefits at the office. Now, the introduction of the Work Fit Challenge app puts all of the physical, professional, and mental advantages into the palm of your hand.
The app connects through Bluetooth to any of the workstations we offer. It remembers your settings so you can adjust the height of the standing desk throughout the day. Just like you track how far you run on your foldable treadmill at home, you can now track how far you walk, how often you stand, and how many calories you burn at the office.
Maximize Your Activity Levels at Work
The introduction of this fully integrated app expense possibilities when it comes to managing your health and well-being every day. However, to harness all the fitness power possible, consider adding a Zero Gravity standing treadmill or Zero Gravity cycle seat to your office. Both of these convenient and flexible exercise options sync with the Work Fit Challenge app.
The new focus on maximizing health seeks at every turn to combat the health risks associated with sitting down for long periods of time. When you work behind the computer or in an office setting, you may feel like you have no choice. With today's standing desks, you can adjust your position with ease. Sit when you need to but get up on your feet as often as possible.
This powerful phone App from Zero Gravity Tables helps you increase your standing time gradually so you can maintain comfort while improving your health. Its customizable timer and scheduling feature give you the control you need to manage these lifestyle changes effectively. Or you can simply increase the time you want to stand, and the app will handle scheduling for you.
It is this type of convenience and full integration with the standing desks, treadmills, and cycle seats offered here that will help you transform your life in the new year.
Learn more about Zero Gravity Tables and the Work Fit Challenge App! Please watch the video:
https://www.youtube.com/watch?v=35PtXEJqMPk
##
If you'd like more information about Zero Gravity Tables, or to speak with a sales or customer service representative, please contact:
Email: info@zerogravitytables.com
Call: +1 888.978.9199​
About - ​Zero Gravity Tables is a leader in innovative sit to stand office solutions and integrated exercise equipment. Combine your fitness and work activities. With our new Work Fit Challenge App you can seamlessly keep track of your calories burnt, the distance you covered and time you're exercising. Control the height of your works station for optimal positioning while sitting, standing or working out. Zero Gravity allows you to multi-task to meet your work and fitness goals. Find yourself a lot more productive after embracing an active office lifestyle.
Source: Zero Gravity Tables
Share: