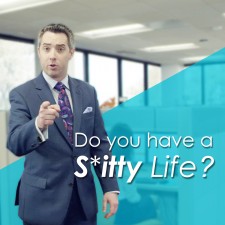 The VersaDesk Power Pro, the Original Push Button Adjustable Height Sit-to-Stand Desk Riser.
LOS ANGELES, October 27, 2017 (Newswire.com) - The dangers of sitting while working at the office eight hours a day, every day for years on end can have dire consequences such as strained neck, bad posture and chronic back pain. It can also increase the risk of type 2 diabetes, obesity, mushy tushy, brittle bones and varicose veins.
"Combine all these factors they could even lead to the lower life expectancy." proclaims Versa Vic.
"The solution to your "S*itty" life is the VersaDesk Power Pro, a sit-to-stand desk top riser..."

Versa Vic, VersaDesk Spokesperson
The solution to your "S*itty" life is the VersaDesk Power Pro, a sit-to-stand desk top riser that plops right onto your current desk and with the touch of a button rises like rent in San Francisco.
Whether you're Napoleon Bonaparte or Abraham Lincoln, it's suitable for any height. Our desks are sturdy, reliable and beautiful, and are designed and assembled right here in the good old USA.
We have a fantastic warranty, which is three years on the electronics and a lifetime warranty on the frame.
By using the VersaDesk Power Pro Sit-to-stand desktop riser in your day-to-day work life, you could have an improved lifestyle and a happier and healthier work environment. So join us and let's take a stand for your health, literally with VersaDesk and put an end to this sit show.
Learn more about VERSADESK and VersaVic! Please watch this video: https://www.youtube.com/watch?v=p4V9JkICs1k
###
If you'd like more information about VERSADESK, or to speak with a sales or customer service representative, please contact:
Email: sales@versadesk.com or support@versadesk.com
Call: +1 800.465.1660
About- VERSADESK is a leader in standing desk solutions that specialize in innovative designs for your office, at home, work space, or the hobbyist. Dealing directly with end-user companies and consumers, we are competitive and have the experience in creating purposeful and long-lasting office furniture. From urgent needs to specialized project requirements, you can be assured of the most professional, creative, personalized and prompt service in the industry.
Source: VersaDesk
Share: